Sixty Eight: A new game to add to my Japanese Xbox 360 collection
I was also going to pick up IdolM@ster Live for You, Dream C Club Zero, or Conveni 200X, however instead of picking another one of those games to go with my Mizzurna Falls I found a very nicely priced No More Heroes from a lovely eBayer in the UK for a tiny £20.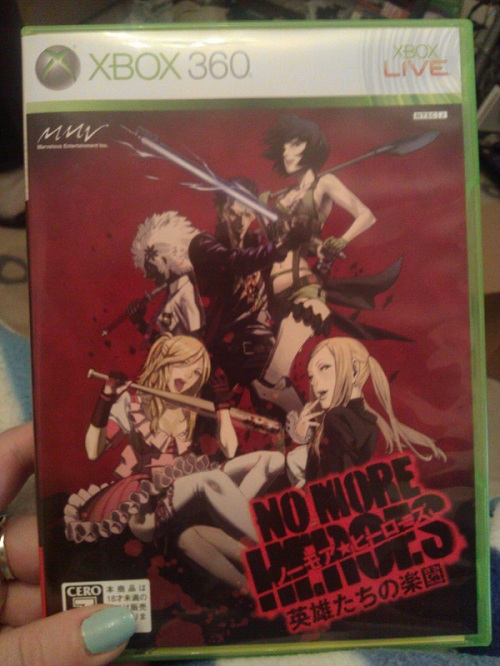 I only hope that there is eventually more Japanese Xbox 360 games in the future on the UK eBay, although I won't keep my hopes up. At least I've got NTSC UK for an extra chance to find cheaper Japanese games, as the going rate of £60 is pretty hard to keep up with.
4 comments
Comment
from:
TrustyBadger
[Visitor]
Ouch £60 and it's not even a collectors edition? That's real dedication right there!
I only recently discovered your YouTube channel and was inspired to buy a few collectors editions of my favourite games (Oblivion, Bioshock, Assassin's Creed II + Brotherhood, Dragon Age, Fallout 3 + New Vegas) - as well as accompanying collector's edition strategy guides. These often feature a lot of artwork and due to their scarcity tend to be more expensive than the game once out-of-print.
Thanks to your videos my 'gaming space' is now looking a lot more respectable but my wallet sure is hurting pretty bad... cheers for that!
10th March 2011 @ 22:54
The game was actually £20, although the going rate for most Japanese games from any import sites is about £60. So I paid that much for Catherine :)
10th March 2011 @ 23:37
Comment
from:
Fleur Delacour
[Visitor]
Japanese x-box are known for their shooters by Cave. I heard that Mushihime-sama Futari and Espgaluda II were good games. But I'm not sure it is worth the price. Unless you can have them for 20 £ like Deathsmiles on Amazon.
11th March 2011 @ 16:18
Yeah the only Cave shooter I've got is Deathsmiles atm, sadly they cost about £60 for any of the Cave shooters when importing.
I really wanna get Mushi Mushi Pork/Pink Sweets as well as all of the other Cave shooters :) Just gotta save up the money of find them cheap on ebay!
11th March 2011 @ 19:58