One Hundred and Fifteen: CTFing
I had a great night last night getting in some practice for the Halo 3 CTF match I'll be taking part in soon. We had some great CTF & Slayer matches which involved some awesome memorable moments, hopefully we'll do even better on the day and kick some ass.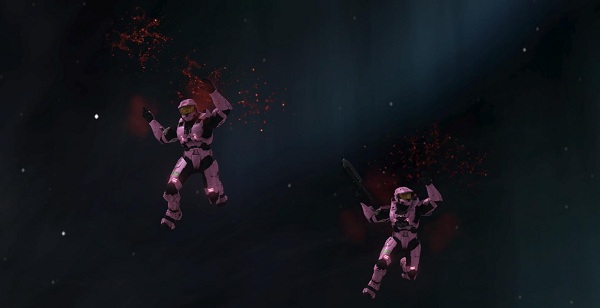 Above is an awesome picture of myself and Nixxor unfortunately being blown up in a team slayer match.
7 comments
User ratings
5 star:

(2)
4 star:

(0)
3 star:

(0)
2 star:

(0)
1 star:

(1)
Have you played AOE Beta? Gimme review.
04/26/11 @ 11:06
From applying to the beta I signed an NDA that asked me not to talk about it, sorry Hassan.
04/26/11 @ 21:28
If you are refering this then you are kidding me right!. http://www.xbox.com/en-US/Legal/livetou I am big fan of Age of Empire III and I want to test that.
04/27/11 @ 13:22
No Hassan I'm referring to the NDA that I agreed to when starting on the beta that means I am not allowed to publicise, talk about or share the beta access with anyone else. Just like any other NDA that means you are not to talk about a game before things are made public and even after they are made public. I'm not referring to the terms of service for Xbox Live.
04/27/11 @ 13:54
Haha, I got you. NDA is lifted as you are telling. Now also donate me game. :D
04/28/11 @ 12:15
See this pic. http://i56.tinypic.com/14d1svd.jpg
04/28/11 @ 12:17
That's not how it works, plus it's locked to my Live ID. You'll just have to wait for the game to come out. It's going to be free anyway.
04/28/11 @ 22:48