Today there were intentions to eat some yummy Japanese food, check out some game stores and play some games at the Trocadero with some friends. Well most ideas were accomplished, not all but it was still a great little day out in London.
Food wise I had been recommended Misato, it was then later recommended by more people, so in the end we all knew where to go, which is a small Japanese restaurant in Soho known as Misato. After having such a great time in this little restaurant today I thought I'd share my views for those that may be popping to the Soho area and need somewhere to eat.
Prior to going there I had read up a little on the internet, which informed potential visitors of a wait before being seated, and that the food is cheap and good quality. Well to be fair I was not surprised by anything, we had to wait a little which was fine especially with the great food that was on its way.
Misato sell a variety of Sushi, Rice and Noodle dishes, along with bento boxes and a few different drinks than your average Wagamama would serve you.
So firstly I will apologise straight off, my pictures aren't that great in quality due to the lighting and me not wanting to use my flash. I decided to go with the Katsudon, as I had never tried the dish before, and I must say it was definitely an experience.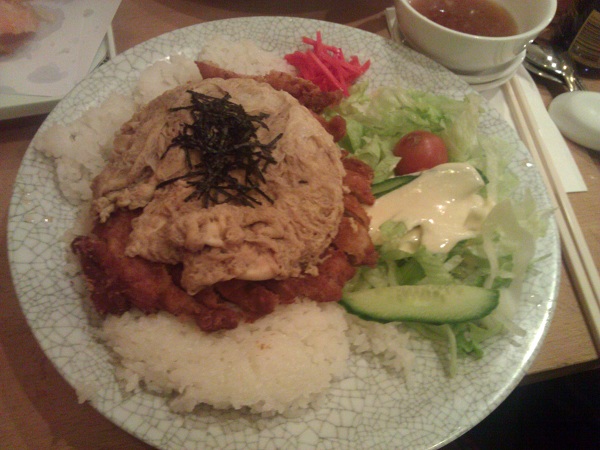 Katsudon is a rice based dish with pork cutlet and an egg topping with a little side of salad to go along with it all. At first without any katsu sauce I thought it may be a little plain, however the egg was very sweet and full of flavour which worked really well with the pork. The only bad point with the dish was perhaps that the egg was a little too overpowering at times. Overall though I was very happy with the dish, especially as it was such a huge serving (the portion was so large I couldn't finish it) and only cost either £6.00 or £6.50, I can't remember the exact price.
I also managed to try out their vegetable tempura, some sushi (of the Salmon variety, and I don't generally like Salmon but I thought it was pretty good) and made sure to have a glass of calpico with my meal. Overall it was a massive meal that tasted great and left us all very happy that we chose to eat at Misato.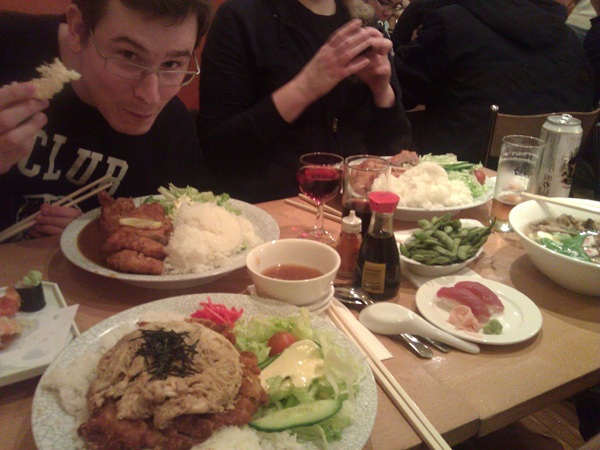 Now I only wonder, if we do another weekend of fun, where will we eat next, I'm always open to recommendations.