So as those who read these will know sadly Hypatia passed away last week, well I still wanted to introduce her.
So when I originally set out to have a millipede (just before I picked up Eratosthenes) I decided I really wanted a Madagascan red millipede purely based on how beautiful they were, when I went to Bug Fest I kept my eyes open for one, although sadly the only millipedes were Eratosthenes' breed. That didn't put me off from getting him though I just knew one day I would own a millipede that is a lovely shade of red.
Later on in the year, sometime in the summer I went to a reptile show at Kempton Park Racecourse, I hunted and hunted but with the show being more reptile focused there weren't a huge amount of millipedes, however I did pick up the lovely Archimedes.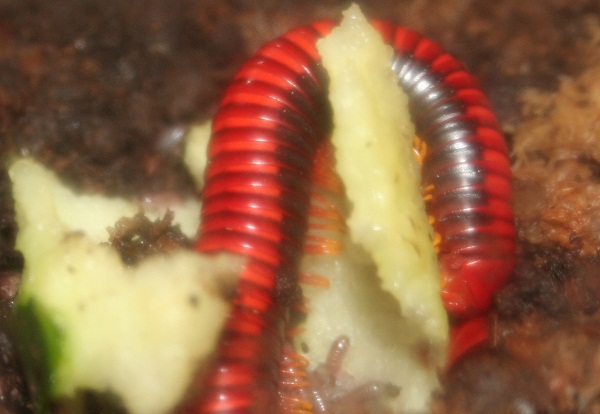 A month or so later the Entomology show was held at the same venue of Kempton Park Racecourse, and with this show focused on insects I had a better chance to find a Madagascan red, I looked and looked but sadly didn't find one. Until I managed to squeeze my way to a very popular stall ran by a nice German man, who after a look of looking I realised actually had some Madagascan Red's.
I was astounded and knew I had to get one, he was selling them in pairs of males and females, and wanted £30 for each set, however I wasn't in it for breeding so I picked up a lone female for £12. Maybe I should have gotten her a mate as well, to keep her company, but every other millipede I had seemed friendly enough.
So that's how I got Hypatia, she is still the most expensive millipede I purchased and sadly the most exotic. She seemed to fit in with the others ok, she would moop around the tank, eat her food, go under the soil and generally do what all my other millipedes would do. Although unlike the others she wouldn't climb all the way up the glass and walk along the roof of the tank.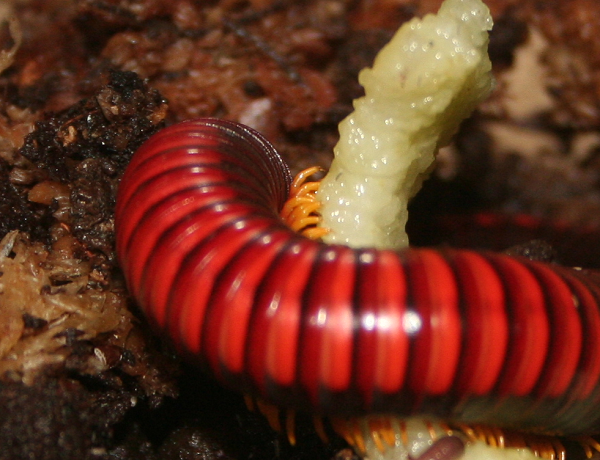 Sadly I am still unaware of what exactly happened to her, and I will now promise to myself not to buy another of her breed, even though they are so beautiful. As if for some reason she didn't last in the environment, I don't want to do the same to another only to have them perhaps do the same.
She was my prettiest millipede and I won't be forgetting her any time soon.