My apologies for the craft related entry, but aren't these buttons just the cutest. I bought them when I was visiting my family recently from a great little shop at the local market.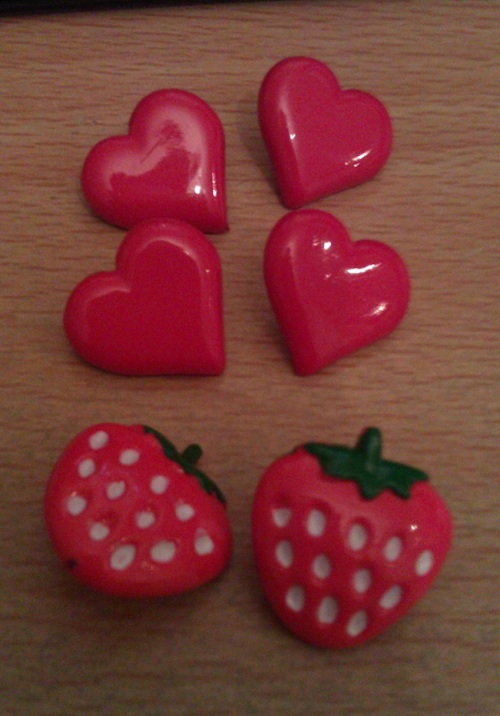 If there's one thing I'm not a fan of in the Surrey/Hampshire areas is the lack of craft shops, even back when I lived in Newport we had some great local stalls or shops inside and next to the market in the town centre, whereas the only really place I have found so far other than Hobbycraft (a bit expensive) is the very awesome Pandora in Guildford. But sadly Pandora is a bit of a trek to get to for if you just wanted to browse their wares.
I love the market culture of a stall you find amongst all the other generics you should find in a market (game stall, magazine, random kitchen stuff, flowers and of course fruit and veg), the little hearts were about 6p each and the strawberries a whopping 12p each. It's nice and cheap and a nice thing to browse should you have a little free time. When spoilt for choice this is great and you can really take it for granted, however when you have little or no choice within a less than close proximity you can be left wanting more I suppose.
A set of the heart buttons may be used for the little pair of shoes I'm making Ava, however I have to manage to make them first, but they're proving slightly trickier than a stuffed object as you aren't just working up in a round circular motion.
A little Crysis 2 was on the agenda tonight, however after playing a little online multiplayer it reminded me I need to get a bit of practice in for the Halo CTF tourney I'll be taking part in soon, sadly Halo 3 not Reach though, which means I must get used to the old controller layout again.