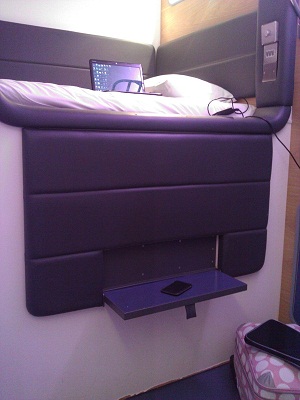 Due to an early flight to Los Angeles and a lack of driving skills on my part.
Myself and my companions were due to stay in a Yotel at Heathrow in order to be checked in with ample time before flying off on a lovely 11 hour flight.
So a Yotel (not a Yo Hotel like I keep calling it) is owned by the Yo Sushi company and are a chain of capsule hotels, similar to what you may find in Japan, but a bit bigger as I suppose British people get claustrophobic easier?
I had a lovely single room to myself and I must say I almost wish I had a room like it for myself, I've never had the chance to sleep so high up in a room that made me feel like I was beneath the ocean. Is that weird that I felt that way? It did feel nautical based on the architecture of the hallways and how the rooms were all laid out.
So staying in a Yotel was a great experience (although sadly had no tv remote, but the wi-fi was adequate) and I recommend people use them if they have early morning flights as they're comfortable and have an interesting price plan charging per hour instead of per day.