Now this is a little bit of a silly post by some means, however I'm also 100% serious about the issues mentioned as well.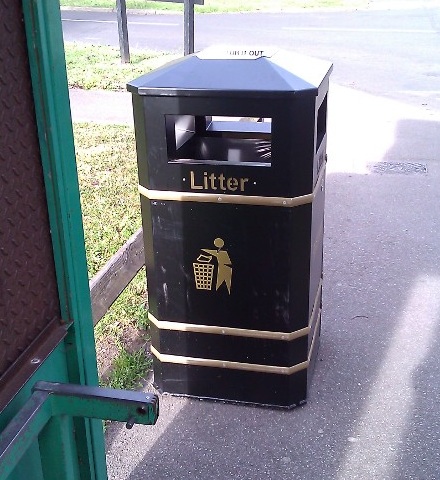 After living in my flat for about two years now the most amazing thing has happened. I'm quite lucky to live quite close to a bus stop, making it super handy for having to catch a bus, or get off one. Anyway after being in the area for so long I have noticed there are constantly empty bottles, tissues, sandwich packets or even a nappy once, thrown on the floor as there was no bin within a 10 minute walk.
However times have changed and after popping out to catch a bus this morning my eyes were drawn to this beauty. I couldn't believe it when I saw it, so now if I see rubbish on the floor those people had no excuse to do so. The convenience of a bin is amazing, and even though it took two years of me mentioning it on every survey I took part in, it finally arrived.
I'm really not a fan of litter, not only does it endanger small animals it also makes what could be lovely sidewalks of grass and trees look like someone else's dumping ground. If I ever accidentally drop something I'll go chasing after it (should it get caught in a breeze) in order to not litter, I only wish everyone else were the same.