So with the recent Kickstarter/Indiegogo posts I thought I'd do another, and this one is less gamey and more just plain interesting. So I saw a video on the Tweenbots website that a friend sent me a link to back in University, and I thought it was the greatest little idea. Of course it's nothing ground breaking that's going to save lives, but what it is, is a little robot with a task; get to a destination, however he is human-dependent, he's got a motor and wheels that force him forwards. If you look at the structure of a street you can see a variety of obstacles that may get in his way. This is when the human-dependencies come in, he can easily get stuck on a stone, pavement or even a pothole, and he relies on passersby to give him a nudge in the right direction.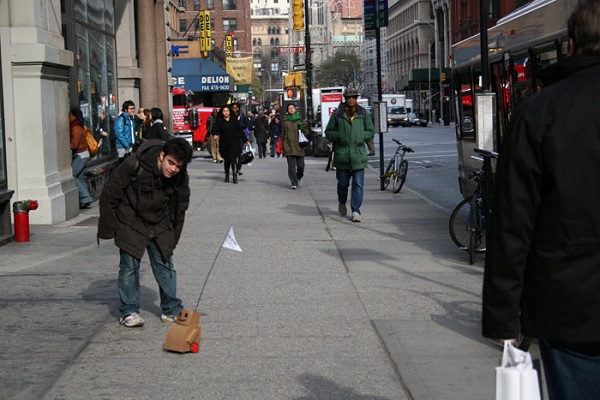 When I saw the video I knew the instant I saw it that I wanted to have a go, the thought of how great it would be in a busy place like London, and what exactly would happen with the little chappy. Myself and a friend spent a short time thinking of them and then sadly that was the last thought of the little Tweenbots, until now that is, after receiving an email saying they were on Kickstarter. I read Tweenbots and couldn't remember for the life of me what it was, until I shouted out some OMGs after the page had loaded.
So you can now donate to their Tweenbot Kickstarter which will enable Kacie Kinzer to produce Tweenbot kits so other people can share in the fun by purchasing a kit. The idea is pretty interesting to maybe modify the kits as well, because with her videos she created for them she was standing in the background. Whereas getting a small powered camera could capture any footage in the Tweenbot with one of the lenses through one of his eyes.
If you donate $65 ($80 in the UK because of shipping) you can get your own kit sent to you when she's got it all set up. Once again another Kickstarter that I have donated towards, I really hope she reaches the goal.