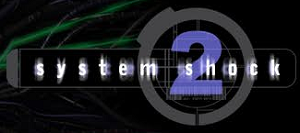 So Charlotte; my sister has always told me how there's no chance to get System Shock or System Shock 2 running on any current versions of Windows, be it Vista or 7, but I recently decided to give it a go and see if I could get it working. I started off at first by trying to install it in compatibility mode and with admin rights. The usual things needed to get an older game running, and after a bit of faffing around I managed to get it to install.
If you don't wish to mess around for a while getting it to install, one way to do it is to copy over the "shock" folder off of the CD onto your computer and run it from there.
After having it all installed on my PC I thought I was ready to go, until I tried to run it. Only to have it crash after launching the game, I then felt like giving up after Charlotte's constant rambling of saying it won't work.
I decided to go to the internet for help before I lost all hope for the game, as I've always wanted to give it a play. Then to my surprise I found out there was still a whole modding community keeping the game alive.
Which of course isn't unheard of with games, but generally the websites stay out of date and the servers get shut down. However not with System Shock, perhaps as it's such a loved game which has influenced many.
To find all the necessary information you just need to pop on this post on the System Shock forums and read the post, or if you don't care to read about what it does and you just want your game to work you just need to download the file called SS2Tool_v3.5.exe which is at the bottom of the first post on the link above, and thenrun it, it'll then patch everything up and allow you to play the game, provided you installed it already.
One other thing I'll point out, if you attempt to make your own custom controls like I did, it'll break certain controls so I recommend at least using one of the control types they give you by default. If you really want a certain layout on the System Shock forums there's a post about fixing it, but it didn't seem to work for me.
Now go off and play System Shock 2!