So for anyone that doesn't know, my favourite game is Shenmue (and Shenmue II) this doesn't of course mean I hate other games. Heck if anyone has been reading my blog or checking out the Gamercast YouTube stuff you'll know I will buy and play pretty much everything, and will enjoy the best pieces that a game has to offer.
So even with my wide love of games it all boils down to Shenmue in the end, it was the first absolutely massive experience that I played in a game and I couldn't believe just how rich it was. It of course has a lot of QTE events which I know derives away from gameplay, but they fit nicely among the hours and hours of gameplay within. I could go on and on about Shenmue, however I can just finish saying I would love if a day comes where Sega or someone just decides they'll take the plunge and give developing number III a go.
With it being one of my most favourite games I kind of started collecting copies of it (also thanks to Charlotte) so I've got copies that are PAL, NTSC-U and NTS-J as well as special copies like "What's Shenmue" or the "Project Berkley" disc that came with NTSC-J copies of Virtua Fighter 3tb. The list does just keep going, and well, now I've added something else to it. A nice little strategy guide for Shenmue which I picked up off NTSC-UK for the lovely cheap price of £2.50, bargain!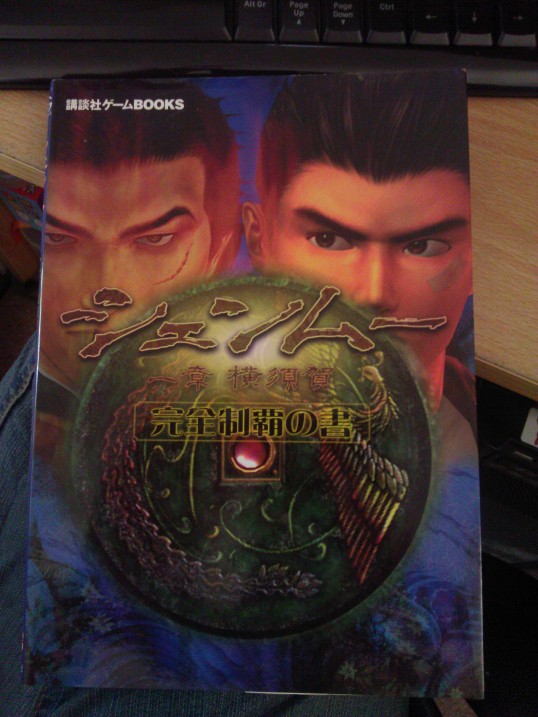 I'm always looking for more to add to my Shenmue collection (a mini collection derived off the main one) and it's nice that I now have a Japanese strategy guide for Shenmue I and II.