So scarily enough I've been writing on here for 100 days, pretty hard to believe I know, but somehow I've managed it, whether they be back when I had a little more time and I wrote about games (which I will get back to) or it's Amigurumi focused or showing off my millipedes.
I've generally had something to write about or show off, so I'm happy to of managed to find something each day, which hopefully hasn't lead all my lovely readers to get a bit bored.
Luckily the integration between the blog and Facebook works like a charm thanks to Networked Blogs, although the Twitter stuff still isn't 100% working, but I'm sure I'll get it working one day?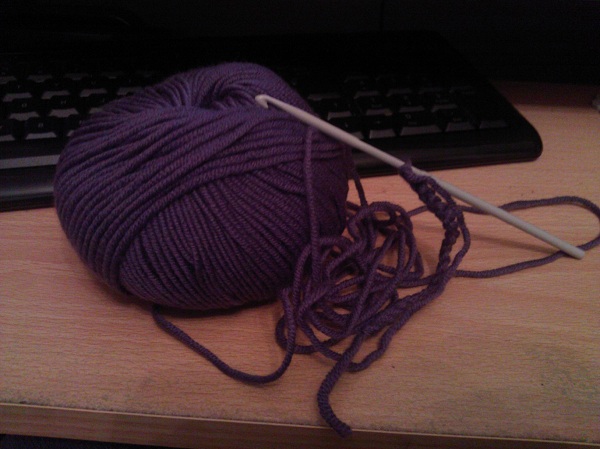 So soon enough I'll be back on the original path I was going with my blog, posting up interesting things I've bought, writing about the games that I love and just general interesting things for you to read. However for now I'm keeping with a quick posting format so I can make sure to get the post out there without having to spend too much time writing it all up, while also trying to give my readers something slightly interesting.
So as you see the picture above after a break off the crochet I've weaned myself slightly back onto it and am seeing if I can make some gaming gloves on my train rides to and from work each day as the little shoes for Ava proved a little difficult and I need a little more experience before I try them again. Should I make a nice pair with some game related article on it (be it perhaps a little crocheted character) I may try and make some more as I'm a huge fan of fingerless gloves as your hands can get really cold when playing games in the colder months. Plus they're great for when using a phone that requires touch in the winter.
Anyway thank you everyone for reading my blog and I hope to entertain you for the rest of the year and perhaps longer than that.