So I thought I'd write up a post-mortem on my game, so I'll just outline the key points which I have come up with.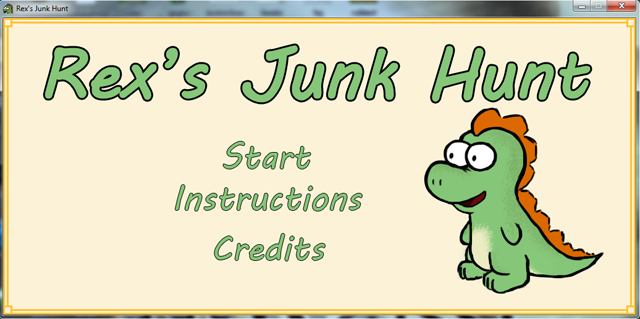 What went well
The art – I'm quite happy with the images I created for it, it could have been a little better in some cases, but I'm quite fond of it.
The audio – A lot of people have commented on how the audio is cute, or funny, the voice of my boyfriend proved rather successful for Rex the dinosaur.
The menus – I quite like the colour scheme of the menus, although looking at it now it's very Bonsai Barber. However there aren't many clicks needed and it's easy to navigate around so I'm happy with that.
All the little bits and bobs – I love that in the last remaining 5 minutes I managed to pull together an icon file along with all the other little touches that makes it feel a little more finished.
What went wrong
Not being a coder – I was limited in what I could make, so I thought making a seek n' solve game would be easy. However I was wrong as it was a lot harder than I thought.
The pop-ups saying you found an item – I had to keep these in to have it work properly.
The fact that it repeats items and never ends – I couldn't figure out how to get my game to work the way I really wanted it, sadly this is the huge downside of the game, showing no progression or reward.
Items staying there – I couldn't make the items disappear and this then means the game doesn't work how it should. I know this means it shows no progression for the player. So this is why I added the quit button, it was the only way I could make the game end.
Not enough images – For the game to work really well I'd have to of increased the number of images by about 500% as this would then add the complexity needed for the game, and then the gameplay would be down to the placement of the items.
The controls – Having right click as a drag button would not be the first thing a player would think of, I could have fixed this many ways, either by telling the player when they start the game in a pop-up with arrows or something, or the better way. By having items over the edge of what is visible on the right side of the screen, then encouraging the player to look. However if the player reads the instructions they shouldn't encounter this problem.
Zelda – Unfortunately The Legend of Zelda: Spirit Tracks came out so I had to stop myself from playing it all the time, although I did play it a bit over the weekend at times.
Sleep – On the Friday night I didn't actually stay awake for the theme to be announced, and had a large amount of sleep, although this was mainly down to having a long day at work, doing food shopping and Gamercast in the evening. So I was quite tired, and I had about 4-6 hours each night, so that knocked a fair bit off my development time. However if I had less sleep I'd not work as well as my brain wouldn't function properly.
What I would improve
More images – I would add a large amount of images to populate the space and make Rex's living room more junk filled, originally the game was two times the size it is currently, unfortunately I didn't have the time to make enough, but now that I can improve on the game in my spare time I will attempt to create more assets to populate the space.
Learn a bit more code – It was pretty much the first time I'd really made something on my own in Game Maker, which was so vey hard, I am a designer, however not a designer in any way of programming. I hope to try working on my programming skills a little, not that it's really essential for my job, but it's always good to know a little of everything.
Final thoughts
I intend to work on the version and perhaps make a version 2, when I do it'll be posted up on my blog
I'm extremely happy with the outcome of the game, not being a programmer, I made something that i feel was a little successful. I know of its failings, and I hope to work on them so it can then become a better play experience.
You can give Rex's Junk Hunt a try, but don't expect an completely engaging gameplay experience, as it's still in early stages.