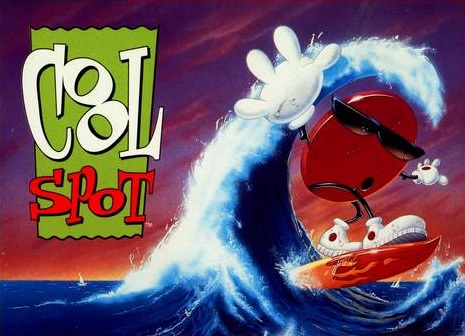 Thinking of games that I used to spend hours playing when I was younger, one of which was a little game called Cool Spot. If you haven't heard of it before well then I cannot believe you haven't played it. However if you didn't own any of the older consoles or wasn't into games back then well I guess I won't hold a grudge.
Cool Spot was originally released back in the early 90s, 1993 to be exact and was on a large selection of different consoles. Cool Spot falls under a type of game that is commonly referred to as advergaming. Others may know it as that 2D platformer that had something to do with 7UP.
Programmed by David Perry and with the music of Tommy Tallarico who of course ended up being two very well known video game developers. With Dave Perry going on to make the likes of Earthworm Jim and Tommy Tallarico composing music for Munch's Odyssey, MDK and of course being one of the creators of Video Games Live.
Cool Spot as well as being an amazing and interesting platformer focused largely on the 7UP brand, a popular lemon and lime fizzy drink at the time which obviously needed a little advertising to get it selling as much as the other popular brands.
The protagonist of the game was none other than the 7UP logo's red spot anthropomorphized to look more human and so he could actually work as a videogame character. Although a spot can actually be a viable character, for the era of games when Cool Spot was released it would have required a lot of work to make a plain red spot feel alive.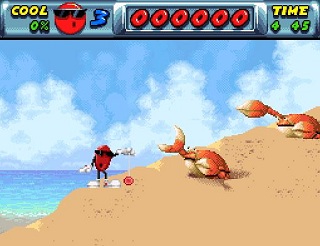 Cool Spot in my eyes is one of my best childhood memories, I remember playing it again and again, but sadly never finishing it as it got quite hard, but that never put me off it. I must have played that first beach level more times than I can imagine. For those with fond memories of the game I hope like myself you never forget Cool Spot, no matter who tells you its crap, just ignore them and remember the good old days.
Sadly the series was tainted by a not so amazing sequel known as Spot goes to Hollywood, which may or may not have led to no later Cool Spot games. However this of course could have been due to a lack of advergaming on consoles and the leap to web based flash titles. However with the more recent free Doritos titles on Xbox Live Arcade perhaps there is a home for Cool Spot in the future, I really hope there is.