If you already know what I'm talking about from that mouth-full of a title well done on you for being awesome, if not we'll I'll fill you in! The game in question is Atlus' upcoming game Catherine, which is set to be released in Japan on February 17th 2011 on Xbox 360 and Playstation 3, with no current plans for NTSC/PAL release. Of course should the game comes out in America or Europe I will support it and buy another copy, however for now Japan seems like the only location for its release.
I was excited for this game the second I saw the first trailer which was released back around August time. (NSFW)
All I knew was it was a new Atlus title, it was called Catherine of all things, had Studio 4 degrees behind it, music composed by Shoji Meguro, is Atlus' first title featuring on our current gen consoles and the trailer made me want it.
A bit later down the line amongst more videos, the pre-order bonus of an art book and soundtrack were announced as well as the amazing box art.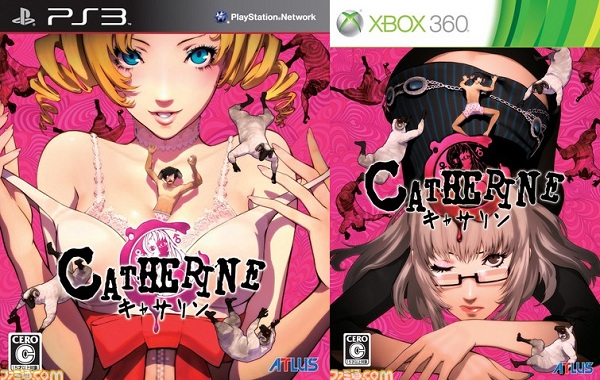 Although the PS3 box art is probably my favourite I have gone with the Xbox 360 version, as my PS3 will always be able to play Japanese games, but in order to play Catherine on the 360 I will need a Japanese Xbox 360, which is exactly what I've done. Meaning shortly I will have a NTSC-J console in my possession allowing me to play all those games that I wanted which couldn't run on my little PAL machine. So with all these things paid for and just waiting on arrival I was then blown away by a recent gameplay trailer that was shown to me. (NSFW)
Being an Atlus title and developed by the Persona team I imagined originally I would be buying some sort of multi-level dungeon style RPG, but instead it's actually what seems to be a puzzle orientated adventure title, with a hint of Kurushi with its frantic movements around blocks, as well as some nice vertical movement.
I cannot wait for my copy to arrive so I can see what it's really like.