So the final member of the millipede crew is now to be announced, and that is the very young Conon. I actually bought him with Archimedes but thought I'd leave him till last as he's pretty similar to my babies so you can see a slightly older version.
Conon is the same breed as Archimedes; you can see similarities on the almost white feelers and legs. That is if it's actually possible to see him with my awful pictures taken on my little digital camera. Sadly baby millipedes seem to be a lot faster than large ones, meaning it's harder to get a good picture when not using a fancy Canon DSLR, this is why my only two pictures of him happen to of had the flash on at the time.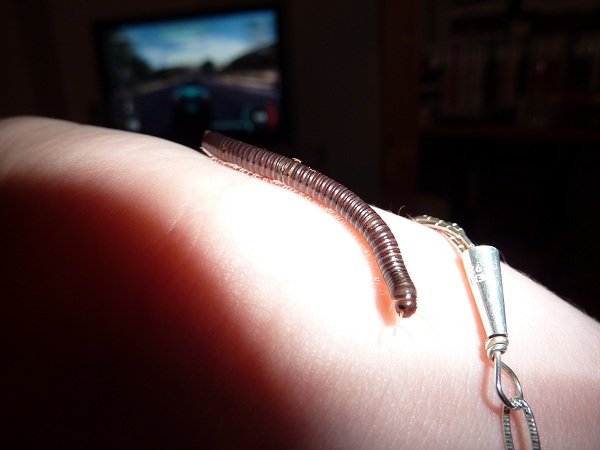 Conon spent a large portion of the time that I had him in a separate little container which was about 7 times bigger than him, and felt necessary as he was so small and would be hard to find in the large tank. However since the babies appeared I realised he could go in the tank with the others and be less lonesome. As if I needed to clean the tank (although I won't until the babies are big enough) at least I'd be able to find Conon as I'd be careful with all the babies about.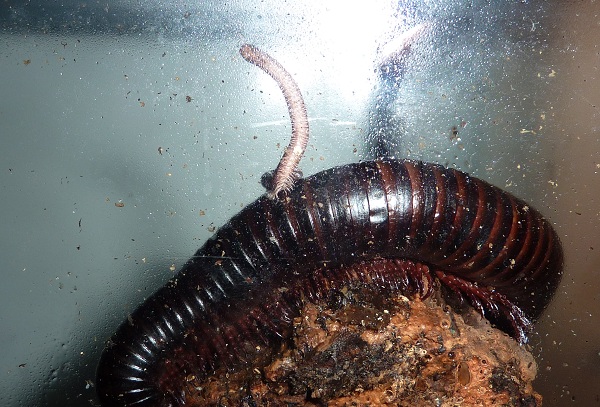 So that's all my named millipedes, I of course have all the babies, however I will be selling most of those when they're large enough. So I'll post some info and pictures on the babies next week and then every following Wednesday will be a millipede photo with a little text.