I'll usually attend any event I feel like as long as I pick up a ticket beforehand, or know I can get a ticket on the door. I found out about this expo the day before but decided it was probably best not to attend due to the amount of travel required to get there.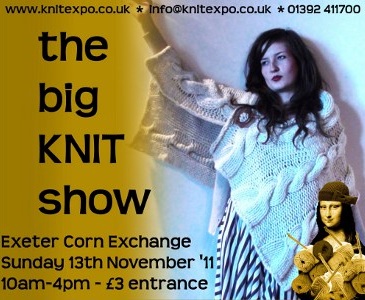 The Expo I was looking at was the big KNIT Show 2011, a knitting and wool related expo that seems to of been running for the past few years.
Not only does it have an array of workshops and fun goings on but from reading up on it you get people selling wool, cake and people swapping their spare wool for other wool, plus many cups of tea!
I was really tempted to go, however Exeter seems to be miles away from everywhere bar Devon (of course) and takes ages to get to on trains. Also the event was on a Sunday it would take 4-5 hours to get there, I'd either have to wake up and get the first train, get there just before it ends or get home super late.
It does sound like an interesting event though, expos and conventions I attend are more focused on games, insects and film/tv, which are absolutely great, but it'd also be nice to go to some more crafty style events too.
Perhaps I'll go next year and plan everything in advance as opposed to finding out the day before!