So some may know that I picked up the Catherine Love is Over Edition, well when I say picked up, I mean imported from America. Which of course sadly is region locked, stopping me from experiencing Catherine with English dialogue.
However times have now changed and Deep Silver have announced a Catherine Stray Sheep Edition, allowing me to pick up yet another collector's edition for this challenging puzzle game.
If it had been the exact same version as the American release I would have bought a standard copy, however it has totally different bits and bobs that come with it, so I couldn't really say no. Plus of course I want to make sure I support the UK release of Catherine!
The contents of this Collector's Edition are the following:
An exclusive T-Shirt that is a replica of the Rave-T-Shirt that Vincent wears in the game
Two Stray Sheep bar-themed coasters
A seductive Catherine poster that is exclusively available in this deluxe edition
A pizza delivery box from the Stray Sheep Bar that serves as the packaging for all the extra items found in the European deluxe edition.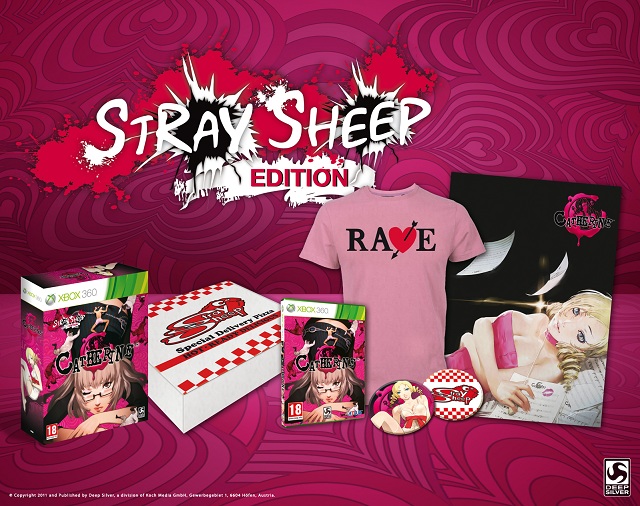 Fingers crossed it goes up for pre-order somewhere soon, and that Deep Silver announce the release date.