I love making gingerbread biscuits, the dough is soft enough to manipulate and add details, they're fun to make and go great with a cup of tea or on their own. Although they are very sugary so I warn you if you're not a fan of rich biscuits.

225 g butter
145 g dark brown sugar
160 ml liquid molasses
1 egg, beaten
1 ½ teaspoons vanilla extract
500 g all-purpose flour
¾ teaspoon baking soda
2 teaspoons ground cinnamon
1 teaspoon ground ginger
¼ teaspoon nutmeg
Directions
In a saucepan, stir together the butter, brown sugar, and molasses over medium heat until dissolved.
Pour into a large mixing bowl, and let it cool for around 5 minutes.
Stir the egg and vanilla into the sugar mixture until smooth.
Sift together the flour, baking soda, cinnamon, ginger, and nutmeg, and then stir it into the wet mixture. Cover and chill dough overnight, or for a few hours if you're short of time.
Once you're ready to start making them, preheat oven to Gas Mark 3 ( 165 degrees C ).
On a lightly floured surface, roll out dough to 1/4 cm thickness, or thicker dependant on how chunky you want your cookies. The thicker the dough the softer the cookie. I generally roll it quite thin so they're nice and crunchy.
Cut into equilateral triangles, circles and squares and prepare to make triforces, pacman and tetriminos.
Once your basic shapes are ready you can then add them to a baking sheet with some greaseproof paper, make sure to spread them out evenly as they will slightly enlarge.
You can now add detailing on the shapes and then also decide if you're ready to make some more complex biscuits, like the Prince, Darwinian's Toro or even LocoRocos
Bake for 10 to 15 minutes in the preheated oven, you can test if their cooked by gently poking a cookie, they should be firm but slightly soft, as they will cook a little more when out the oven, and harden. Be careful the cookies don't go dark on the edges as then they'll be slightly burnt.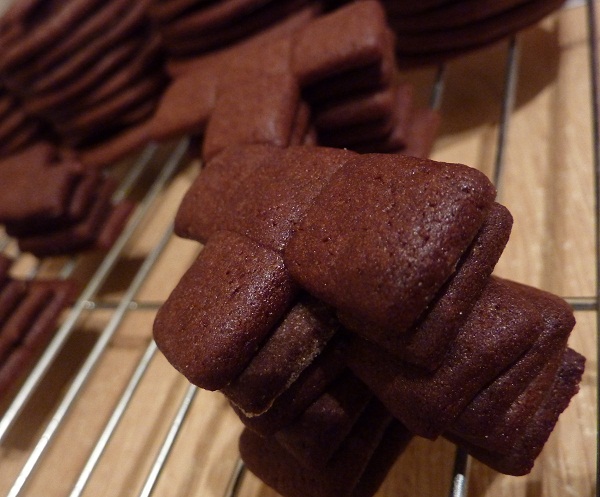 My recipe is a slightly altered version of an anonymous member on AllRecipes. I've been making these biscuits for five years now and I'm still not sick of them.