Now this is the dessert I wanted to make, I saw it baked by Garry Rhodes on an episode of "The Great British Food Revival", he said how his partner always loved having him make it and it would always blow her away with how tasty it was.
So I gave it a go and OMG it was delicious, I managed to eat two thirds of it and was tempted to finish it all off, but stopped myself as I was absolutely stuffed.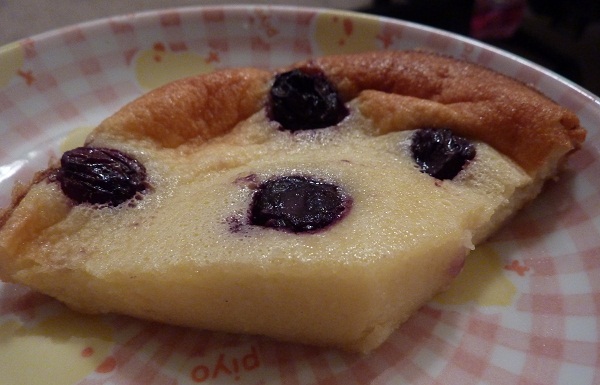 The recipe is so simple I'll post it here; I can definitely see myself making it again in the future. The recipe is straight off the BBC Food website and is not one I have created.
2 free-range eggs
75g caster sugar, plus extra for dusting
40g plain flour
100ml double cream or crème fraîche
100ml milk
butter, for greasing
225g cherries, stoned

1.Preheat the oven to 180C/350F/Gas 4. Place the eggs and sugar in a large bowl and whisk together. Sift over the flour and whisk well then stir in cream or crème fraîche and milk. Leave to rest for 10 minutes.

2.Lightly butter a large baking dish and sprinkle with sugar to coat. Scatter the cherries in the dish and gently pour over the clafoutis batter. Bake for 20-25 minutes or until the batter is just firm to the touch. If it is too soft in the centre, bake for a further five minutes. Remove from the oven and allow to cool a little before serving.
Plus if you don't manage to eat it all, it tastes just as good cold, not as good but it's still delicious, so it's a great accompaniment with your sandwiches for lunch.