I gave the Sonics Generations demo that came out a few months back a go, it was fun and enjoyable and felt like a good old Sonic used to. Well now SEGA have dragged me into their net by announcing this lovely looking collector's edition of their upcoming Sonic title.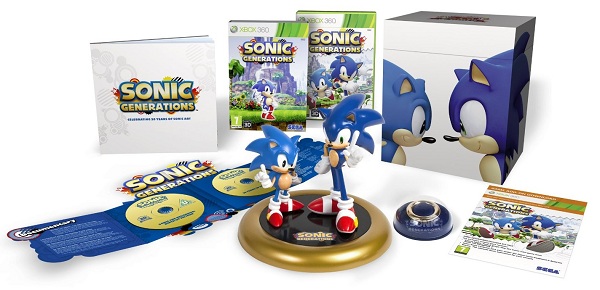 I love the fact that it comes with the following items:
Collectable figurine featuring both Classic Sonic and Modern Sonic
An individually numbered commemorative "Gold Ring"
A "20 Years of Sonic Art" book
20th Anniversary Sonic Soundtrack
History of Sonic: Birth of an Icon DVD
Bonus additional downloadable content
So firstly I really like the big box art as it reminds me of the Sonic CD box art, but also would like to pick it up as the 20th anniversary soundtrack would go great with my 10th anniversary soundtrack. While the art book and "History of Sonic" documentary should be an enjoyable watch.
Plus who doesn't want a numbered gold ring or a cool Sonic figure?!
You can pre-order them off Amazon at the moment, that's what I've done!
Considering the recent fascination of charging £130 for a collector's edition I'm very happy that SEGA have gone with a respectable £99 retail which makes it only £85 on Amazon currently, which I believe is the only store currently taking pre-orders.