So anyone who reads here will know I was one of the day one buyers of a Nintendo 3DS, and with a slightly shocking lack of interesting games, it's a bit disappointing for any owners out there with the handheld wondering where their awesome array of titles are.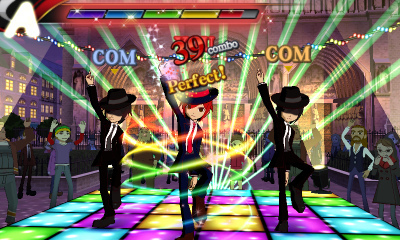 Well there's a few good games out there to be fair, not a huge amount to keep anyone's attention though with the exception of course for The Legend of Zelda Ocarina of Time, hence the very recent price cut from Nintendo. There have been a few announced titles which sound interesting, but there's a new game that I'm keeping my eyes on courtesy of SEGA.
Rhythm Thief and the Emperor's Treasure is tagged as a mystery rhythm action title it claims to blend rhythm, puzzles and a compelling story all into one big blob and with a majority of rhythm action titles focusing purely on rhythm with some variety of storyline it'll be interesting to see more on the title to show the exact divide. As the trailer is very secretive on all the elements of play, plus of course knowing the ratio between buttons presses and the touchscreen. As the press release stated you can use the stylus but I've seen a few screenshots with button prompts on screen as well.
Plus there's mention of StreetPass functionality, and I'd love to know more details into how it works, and it's ways to try and draw people in.

Rhythm Thief and the Emperor's Treasure is currently slated for a release in 2012 and with the SVP of marketing in the USA & UK talking about it I'd like to think that guarantees a UK release. I'm just hoping that it contains more rhythm and catchy music than puzzles as I'd love a great 3DS rhythm action title