I absolutely loved Bastion to pieces, the weapons were interesting with the vast array of aims and it's colour palette was a breath of fresh air. Then of course you had the beautiful levels with their interesting style of dropping down right in front of you and then of course the music just added the cherry on top of the already very entertaining cake!
After listening to playlists of the Bastion music on YouTube I had my fingers crossed for a release of the soundtrack. I even joined the masses of people asking for a soundtrack on their Facebook page. Eventually everyone's wishes were answered and they released the soundtrack on bandcamp. Allowing for a digital purchase, or a physical one that you would get in a few months. The physical copy was also signed by the composer Darren Korb and gave you the link to a digital version too so you weren't waiting forever to hear the music again.
I of course opted in for the physical soundtrack and it finally arrived today. I was slightly put off by the size of it at first, but I don't mind as much now. Also if anyone would like to see more pictures of it including the inside and disc please say so!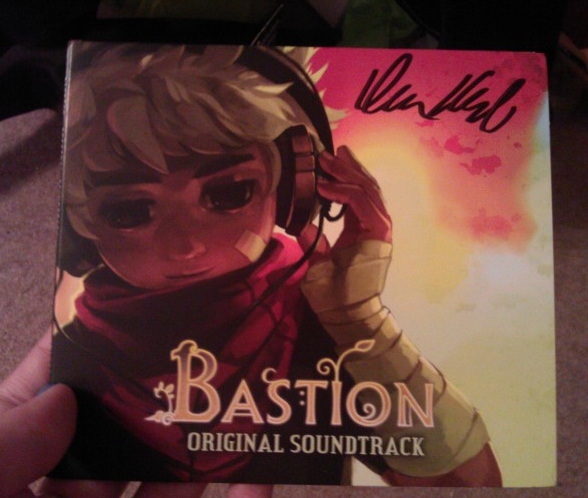 Inside there's a track listing and some artwork, I reckon they should have made a super deluxe version too that came with a small artbook that could have slotted inside.

The physical version is still available to purchase for a tiny $15 so go order one today if you fell in love with the music in Bastion.