So today is the start of Ludum Dare 21 I will probably fall asleep before the theme has been announced like I usually do, but that's my way of doing it. I'll then wake up early Saturday morning and start on the game making process then.
As usual I'll be using Game Maker 8.0 to make my game, perhaps in time for the next LD in December I'll have learnt a new program to make a game in, as I'm really interested in using something like Flashpunk or Flixel. I'll be taking part in the 48 hour session and not the Jam as usual, wish me luck!
In other news I was sent these lovely mouse pads from a fan of Gamercast, I've already nabbed the Super Meat Boy one for myself, Charlotte's having the Portal 2 one and I'm trying to persuade Paul to take the Skyrim one as he's the huge Skyrim fan.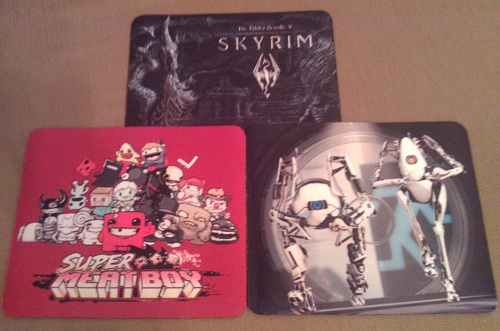 Huge thanks to Mr TrustyBadger for the mouse pads, they will be used!