So you may have have read my previous entry on taking part in Concern's Ration Challenge, and if you didn't, please go give it a read as it explains in more detail on what I'm not really discussing today!
So I had mentioned I'm also taking part in The Pachamama Project in the post, which has recently gotten some great exposure thanks to local BBC news for Look East along with a Points West and some radio stations too! Well I just wanted to go into a little more detail on it all in here helping add to the information out there!
The Pachamama Project is a start-up not for profit organisation that is growing a network of volunteers around the world to make reusable sanitary pads for refugees. I'd heard about it last year while taking part in the Ration Challenge last September, but with Covid causing me to stay in a lot I never managed to find the time to help take part, or get my hands on what I needed. A poor excuse on my part, however this year I wanted to change my mistakes of last year by helping out this year!
For those unaware I absolutely adore to sew, I've always been a crafty person and I'd been sewing little bits and bobs for presents over the years, but usually just items for myself or for family or friends. I could sew for hours to help get my mind to wander. So sewing for such a great cause just meant I had to help out!
I felt it was a good idea to give a shout out to the project for any budding, or long time sewers out there that want to help out a little! You can find out more info on The Pachamama Project website and maybe sign up to help? Below I'm detailing the simplicity of making one style of pad. There's also a saucer style pad too which you can get off the group for the project, or you can have a go with the airplane style which I'm starting off with.
The breakdown of each pad is pretty simple, I'd gotten ahead with some cutting as I like to batch make things. So the first component is cotton, this could come from clothing, curtains, duvet covers, any cotton remnants you have enough of, or of course cotton from your local fabric shop!
Then the slightly absorbant layers that also will touch the skin are two layers of fleece, the piece that specifically touches the skin needs to be an anti-pill fleece to ensure it is durable for as long as possible.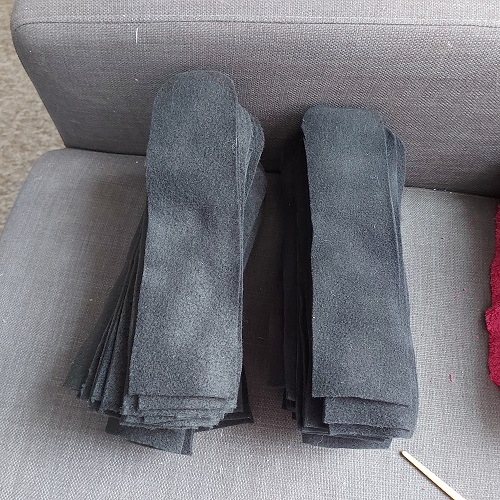 Then between the fleece and cotton layers we have an absorbant layer, which then wants to be some material that's super absorbant, the best material would be zorb however it isn't the cheapest of fabrics, but it can make for a great heavy flow day for refugees. Otherwise you can use towel as a great absorbant layer!
It then gets combined together, so you sew together two pieces of the cotton right sides together and fold it out the right way (I recommend snipping corners and a chopstick to help get those corners pointy and neat). I've been topstiching around the cotton too. Then do the same with the fleece, stitching it together right sides together and turning it round. Then you sandwich the one piece of towel between the fleece and cotton layers and sew around the fleece, topstiching it to the cotton counterpart. And then the icing on the cake is adding some KAM snaps to the wings and then you're done!
I've got 5 cotton parts sewn together as a start, but it took quite some time cutting out 40 pads worth of material, as 40 pads is actually then 80 pieces of cotton and 80 pieces of fleece along with 40 towel. So it builds up really quickly! It's easy to cut the cotton folded to speed things up but it's easier to cut fleece single layer as it's quite thick. You'll also notice your materials disappear in no time too!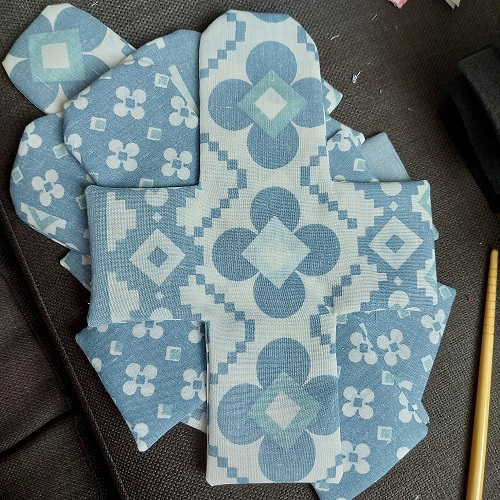 If you aren't into sewing that's ok, not everyone has access to a sewing machine or the time to be able to help. You could always donate to their go fund me which you can find on their website I linked above…Or you could also sponsor me for the Ration Challenge!
For each donation I (or my team) get for the Ration Challenge, I'll be making sure to create an additional 5 reusable pads for the Pachamama Project, thus creating even more reusable pads for refugees! Trying to help as many people as I possibly can in my spare time.
There's a couple of ways you can support me, so you can sponsor myself and Charlotte as a team which is great for if you know us both and want to show support ❤.
Or you could give me a sponsor directly.
You could sponsor Charlotte too!
Thank you very much for your time in reading this!